When asked to name my favourite pianists, one that I always mention is Earl Wild: he possessed a classy turn of musical phrase and a twinkle in his eye. He was instantly recognisable, with his pearl-white hair, and I have friends that knew or met him, and they all have very funny stories about him and relate his anecdotes with joy. It's one of my regrets in life that I never contacted him before he died to thank him for being an inspiration to me as a young musician.
Over the past decade I've played many of his transcriptions, and throw them into concert programmes whenever I can, as, for me, he's one of those pianist-composers whose writing fits under my hands very comfortably, and so becomes a real pleasure to play.
This Sunday though, I'll be indulging myself to the fullest extent by playing his piano concerto, in all but name: the Variations on a Theme of Stephen Foster – the "Doo-Dah" Variations,  with the Sinfonia of Birmingham and long-time collaborator in mischief & music, Mike Seal.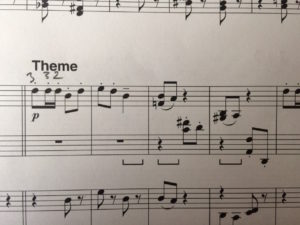 The main theme will be better-known to most as the Camptown Races song. I'm told by Earl's partner that this will be a UK premiere – 25 years after he wrote it. It really is the most American set of variations you could hope to devise: there's a Banjo Picker one, a Honky Tonk one, a Blues, a delicious Gilded Age Waltz, a Hollywood Finale and twenty-something others in between; as well as two bars from 'Somewhere over the Rainbow' hilariously thrown in where you'd least expect it.
Eight years after Earl Wild passed away, I finally get to thank him, and share a joyful corner of his musical world with others.