Ben Dawson – Pianist & Composer
Born in London in 1982, Ben Dawson has earned a reputation in the UK & internationally as a pianist & composer of wide-ranging tastes & talents, at home in the widest range of musical styles and genres: both on the concert stage as a soloist, chamber musician & orchestral player; and as a session musician, recording for film, TV, video game, radio & library music.
As a soloist, Ben has been privileged to work with some of the world's most renowned orchestras. Concerto performances have included appearances and broadcasts with the City of Birmingham Symphony Orchestra, Sydney Symphony, BBC Scottish Symphony, Lahti Symphony and Ulster orchestras; and the RTÉ Concert Orchestra. Ben has also recorded as a soloist with the Royal Philharmonic & BBC Concert Orchestras. Ben's enthusiasm for exploring music's rarities has resulted in concertos by Bernard Herrmann, Earl Wild, Duke Ellington, Miklos Rozsa & William Grant Still, amongst others, becoming part of his repertoire alongside the more conventional pieces.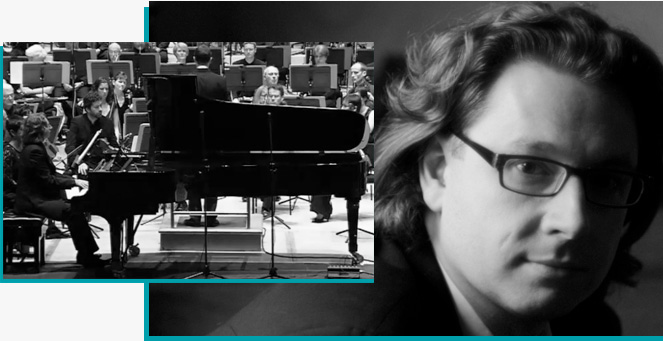 Ben performs with an exciting & diverse range of orchestras & ensembles, and has partnered many renowned & wonderful performers. He has appeared at the Sydney Festival with Meow Meow and the Sydney Symphony Orchestra; toured internationally with the Australian Chamber Orchestra and Barry Humphries; appeared as a guest player with the multi-piano ensemble Piano Circus; played with the Britten Sinfonia at Steve Reich's 80th birthday concerts, recorded & broadcast with violinists Anne Akiko Meyers and Richard Tognetti, and performed in concert with the Tippett Quartet. Ben is also a regular visitor & performer on BBC Radio 3's In Tune programme, and contributed to their series Piano A to Z.
Owing to his fluency in numerous styles, Ben works as a session player in London's recording studios. He has performed & featured on numerous film, television, video game and commercial productions. Baz Luhrmann's 2013 film adaptation of 'The Great Gatsby', features Ben playing Gershwin's Rhapsody in Blue with a studio orchestra. Other major productions Ben has played on include such titles as 'Steve Jobs', 'Downton Abbey', 'An Inspector Calls', amongst many others. His playing has also been heard on many well-known brands' marketing campaigns; including those of Thomson Holidays, Marks & Spencer & Carte d'Or.
To be released later in 2018: Ben has made some studio recordings of Leonard Bernstein's pieces for solo brass and piano: to be issued as part of Deutsche Grammophon's Bernstein centenary box set of complete works.
Orchestral playing also forms a large part of Ben's musical life. Having performed or recorded with most major orchestras in the UK, he is fortunate to enjoy a very close relationship with the City of Birmingham Symphony Orchestra.
As a composer, Ben writes music that reflects his diverse musical interests. Recently, he has written music for the Bafta-nominated film 'Notes on Blindness', and The Hot Potato. Ben has always loved playing and writing for singers, and his set of songs about the annoyances of social media continues to grow. Aside from his original and commissioned music, Ben also writes library music.
Ben Dawson graduated from the RNCM in 2004. His teachers have included Gary Carpenter & David Sutton-Anderson for composition; Thalia Myers and Paul Janes for piano.